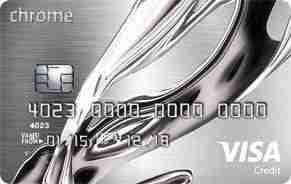 Make your future shine with the new Chrome Credit Card.
The Chrome Card is issued by Vanquis and is suitable for anyone trying to get a new card, but have been refused elsewhere.
Chrome Credit Card Features
Some of the features of the Chrome card are:

Enjoy a new low APR Credit Card – designed to help you improve your rating
Start with a manageable limit of £250 up to £1,000
You could build your Limit up to £4,000 over time
Stay in control of your account with online servicing, a mobile app, SMS and email alerts
Please note the following terms and conditions for the Chrome Card. Cards are not suitable for long-term borrowing or financing existing debt. Missing payments could have severe consequences and make obtaining credit more difficult.
Important: Credit is subject to: status; telephone contact; confirmation of name and address; not already holding a credit card issued by Vanquis Bank; no reasonable suspicion of fraud and is only available to UK residents who are at least 18 years of age and are not legally restricted from obtaining credit e.g. because of bankruptcy.
Please read the Summary Box and Terms and Conditions for full financial details. As a responsible lender, Vanquis Bank will seek to provide you with a Limit that reflects your needs and your ability to manage your account.
Build Your Credit Rating and Credit Limit
To build your Rating and be considered for Limit Increases use your card sensibly, stay within your Limit and pay your monthly minimum payment on time. Not doing so could harm your Rating and make obtaining credit more difficult.
By using your Limit and keeping your account in order, you demonstrate to Vanquis that you can manage your account well and can handle the monthly repayments on your Chrome Card. Please also keep your other accounts such as credit cards, loans, catalogues, mobile phone and mortgages in order and don't take on too much debt elsewhere.
Please remember this is just a guide and meeting these criteria does not guarantee you a Credit Limit Increase.
Chrome Credit Cards Are Useful
Having a credit card is a useful tool to have. Whether you have a large or small credit limit, the card will help when something unexpected comes up and needs to be paid for right away. You can pay for the emergency and then pay off the expense from the credit card balance when you get paid.
Using a credit card to pay for an item over £100 and up to £30,000, you will be covered by the Consumer Credit Act for purchases. This applies to both Visa and Mastercard credit cards. The cover you receive is mainly two fold. If you purchase an item and it does not deliver what is promised, you can ask the credit card company to resolve the matter with the company concerned.
Also, if you purchase something from a company and it goes out of business before you receive the item, the credit card company will refund you any losses you may sustain. Find out now if you are eligible for a new Chrome credit card today!